Every two weeks, The Chapel Times will be delivered to your inbox,
full of church news, event information, & more!
Worship Schedule for January 2
Making Disciples: Confirmation 2022
Loving our Neighbors in KY
New Children's Ministry Coordinator
Disciplines 2022 Devotional Books
Sympathy / Prayer Requests
January Birthdays & Anniversaries
How did Jesus make disciples? He did it by calling people to follow Him, by spending time with them, by sharing His life with them, and by allowing them to see and hear what it means to be His disciple. Like Jesus, we at Pierce Chapel are in the business of making disciples. In fact, we believe that that's our primary responsibility as a church.
Disciple-making starts young, and it continues throughout our lives. But there are certain points along the way when it's important to call people to commitment, to give them a chance to choose life as a disciple of Jesus Christ. The process we call Confirmation is an opportunity for students to hear the call of Jesus and to respond intentionally while learning and growing alongside other disciples.
Below are the members of Pierce Chapel's 2022 Confirmation Class, ranging from 7th grade to 12th grade. Four very dedicated Confirmation coaches will be leading the weekly teaching sessions, helping our confirmands explore what it means to be followers of Jesus. Those coaches are Stephen Childers, Linda Laye, Resa Lord, and Gary Robinette. Each student will also have an adult prayer partner who will support them along the way. At the end of a 4-month-period, the confirmands will have the opportunity to profess faith in Christ publicly (maybe for the first time, or maybe publicly acknowledging a decision they have already made), and to commit or recommit to being a disciple of Jesus Christ. We ask for your prayers for each of these students --- that they will welcome God's work in their hearts and lives!
Confirmands:
Connor Archilla, Smith Blanton, Jett Croxton,
Carson Ellenburg,
Katie Ellenburg, Martin Heim, Chase Herndon, Carli Manwarren, Addison Nicholas, Fynn Taylor, Kaela White, & Riley White.
Welcoming Another New Staff Member in 2022!
We are so excited to share the news that
Beth Hudson
will join our staff team on January
15 as our new Children's Ministry Coordinator! Beth and her husband, Will, have been part of Pierce Chapel since the spring of 2019, and they have three children who already love PC children's ministry: Elijah (age 10), Everett (turning 6 on December 30), and Elaina (age 4).
Beth has many years of experience serving children and families as a nanny as well as years of experience managing employees in a retail setting. She not only loves to connect with people herself, but she also has the natural ability to help connect people with one another. Beth has a heart for seeing and meeting the needs of others, and she is just plain FUN to be around! 😊
We believe that children, parents, and volunteers will be blessed by her leadership. Beth identifies "shepherding" as one of her spiritual gifts, and her desire is to shepherd children into the knowledge that they are deeply loved by God and to support parents as they guide their children in a growing relationship with Jesus.
One of the primary responsibilities of the Children's Ministry Coordinator is to empower and equip others to use their God-given gifts to serve in children's ministry. So as we welcome Beth, please consider whether God may be calling you to join the team that Beth will soon lead.
As we make this transition, we offer our heartfelt thanks to Kellyn Ward for serving as our interim Children's Ministry Coordinator over the past couple of months, and we're happy to say that Kellyn will remain on the team as CM Assistant once Beth takes the reins. Thanks be to God for continuing to bless us with wonderfully gifted people to serve on our Pierce Chapel Staff Team!
We express our love and sympathy to:
Randy Wells at the death of his brother, Jerry Wells, on December 1.
Tommy and Barbara Harrell at the death of their son, Ben Harrell, on December 9.
Family and friends of Alice Brumbach at her death on December 10.
ONGOING PRAYER CONCERNS

Mike Alford

Brent Braxton

Donna Buterbaugh

Brian Cantrell

George Cantrell
Annika Carpenter
Linda Cliff

Judy Dorer

Ben Dunton (Linda Socci's son)

Brenda Elliott

Sarah Fabozzi

Fritzie Fulton
Debby Graham

Jim Hawkins

Retha Martin

Bernadine Nash (Belita Walker's friend)
Teresa O'Donnell
John Proft
Kermit Roseberry
Don & Patti Russell
Danny Seifu (Kiddy Seifu's son)
Kiddy Seifu
Cheryl Seymour
Byrdie Skipper

Mitzi Valdespino (Sheila Cook's sister)
Andy Wentzell (Donna Pounds' cousin)

All military families

(Call the church office 706-327-9807 to add to the prayer list, and please let us know when it's appropriate to remove someone's name.)

EXPECTANT MOTHER LIST


Jennifer Jones - due January 27

Amanda Manwarren - due April 18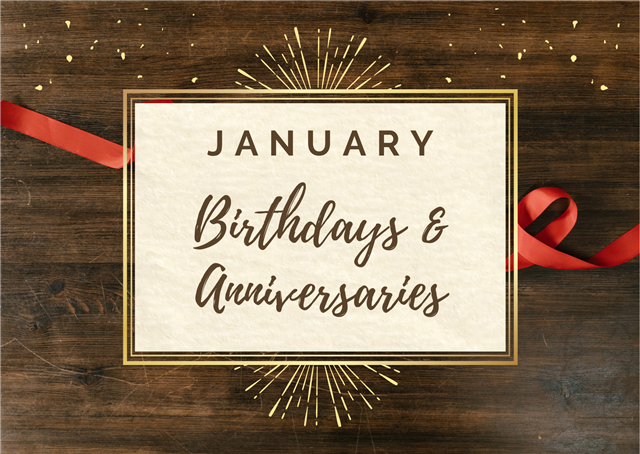 JANUARY
1 Stephen Childers & Jason Paulk
2 Chris & Paula Murphy's Anniversary
3 Stephen Pattillo & Devin Williams
4 Louise Frazier
Jarod & Katie Ingram's Anniversary
Len & Fay Williams' Anniversary
5 Robert Ribolini
6 Josh Jinright, Amy Kellum, Valerie McClung & Drake McClung
7 Blair Blankenship, Sara Haskell & Rachael (Hartin) Wilhelm
Michael & Kristen Smith's Anniversary
8 Savannah Hatch
9 Andy Bourke, Missy Lorentz & Mac Wooldridge
10 Mary Kathryn Alford, David Bader, & Christy Wiggins
11 Margaret Hunt, Clay Robinette
12 Marty Graves & Jenny Wilcox
13 Peggy Baltimore & Rick Mattson
14 Lonnie Freeman
15 Will Marano & Randy Watson
17 Dianne O'Shields
18 Linda Guffey, Jim Hawkins & Matthew Maholick
Rich & Sallie Curtis' Anniversary
19 Yvonne Proft & Emma Castleberry
20 Jon Long, Rachael Mockalis & Sarah Mockalis
21 Tom Swilling & Randall Tew
22 Rebecca Nicks & Jesse Pace
23 David Blanchard & Paul Holmer-Monte
24 Seamus Skelley & Kyle Watson
25 Katie Blanchard, Mason Jenkins,
Chandler McCann & Brian Williams
26 Danny Dudley, Steve Langford, Richard Mohney, Caylie Pace, Warren Wilcox, Jackson Taylor & Christian Schmitt
27 Lauren Bush, Kathy Davis, Rebecca Griffin, Emma Seets & Walker Williams
Keith & Dana Seifert's Anniversary
28 Phil Penny
Peggy & Mike Baltimore's Anniversary
29 Phil Mack
Clay & Darlene Allen's Anniversary
30 River Ingram, Randy Pounds
31 Bryan Hooper & Philip Korytoski
| | |